For Mother's Day this year, Damage Done is encouraging its members to do something a little non-traditional with their loved one...
Kill Her
Of course, since that may not happen (people aren't hardcore enough), instead we decided to do the next best thing...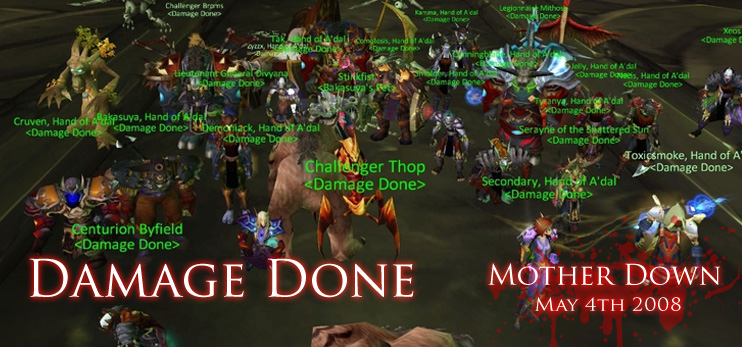 Kill someone else's mother.
Tome of the Lightbringer
- Serayne "Boy I'm glad Thereclaimer is studying instead of raiding today"
Onslaught Shoulderguards
- Comotosis "omg ilu guys so much, i'm so legit"
Thunderheart Pauldrons
- Tak "Guys why haven't we recruited a Boomkin yet?"
Thunderheart Spaulders
- Desolate "Wow I actually beat Thop and Xeos at a roll"
No telling yet which mom we'll be visiting next Sunday.
P.S. Sorry for the bad angle on the screenshot. It was a last minute thought.
Memorable Moment of the Night
"Guys Archimonde is still up..." - PB
"I have to go eat dinner." - Desolate
"I gotta go, too." - Divyana
"I need to study." - Toxicsmoke
"I have to pick up my girlfriend" - Zyzzx